(Big) Disney fans will love this new mobile game
When Disney crosses the mirror to play it as a fighting game on mobiles, it gives Disney Mirrorverse.
If you're a die-hard Disney fan, Studio Kabam has the game for you. Released on June 23, Disney Mirrorverse is a mobile action and adventure game in which the heroes of the Disney and Pixar universes must take up arms against their evil doubles. It turns out that on the other side of the looking glass, the world isn't as magical as it looks.
Nostalgia on the battlefield
To carry out your quest, you can guide a team of up to 3 fighters, which you choose from a list of 40 names, all as famous as each other. Among them, we find our favorite Disney princesses, but also some villains (Ursula, Maleficent, Hades, Gaston) or even characters from films such as Jack Sparrow, Jack Skellington and Tron to name a few.
Visually, they are all incredibly beautiful, sporting new costumes that are in tune with their personalities and the game universe. For the human-looking characters, their faces have also been slightly modified and harmonized with the rest of the guardians , a work that we salute since it is relatively well done and does not distort the appearance of the original characters too much.
All shots are allowed
And what matters anyway is their power. Each character has a style assigned to them which determines their attacks (ranged, in close combat) and their defense (healing spells, immunity against a certain type of damage). The more you use it in part, the more levels it gains, and the higher it climbs in this area the more attack power it has. You can also raise them by using the appropriate items or by collecting "duplicate" crystals.
Once the basics are understood, the parts of Disney Mirrorverse are connected and resemble each other. If the combat system is very understandable, it is also rather dynamic, especially once you have unlocked the fights with several people, and it is extremely easy to take in hand. Like in a typical MOBA League of Legendsyou have light attacks, but also skills and an ult.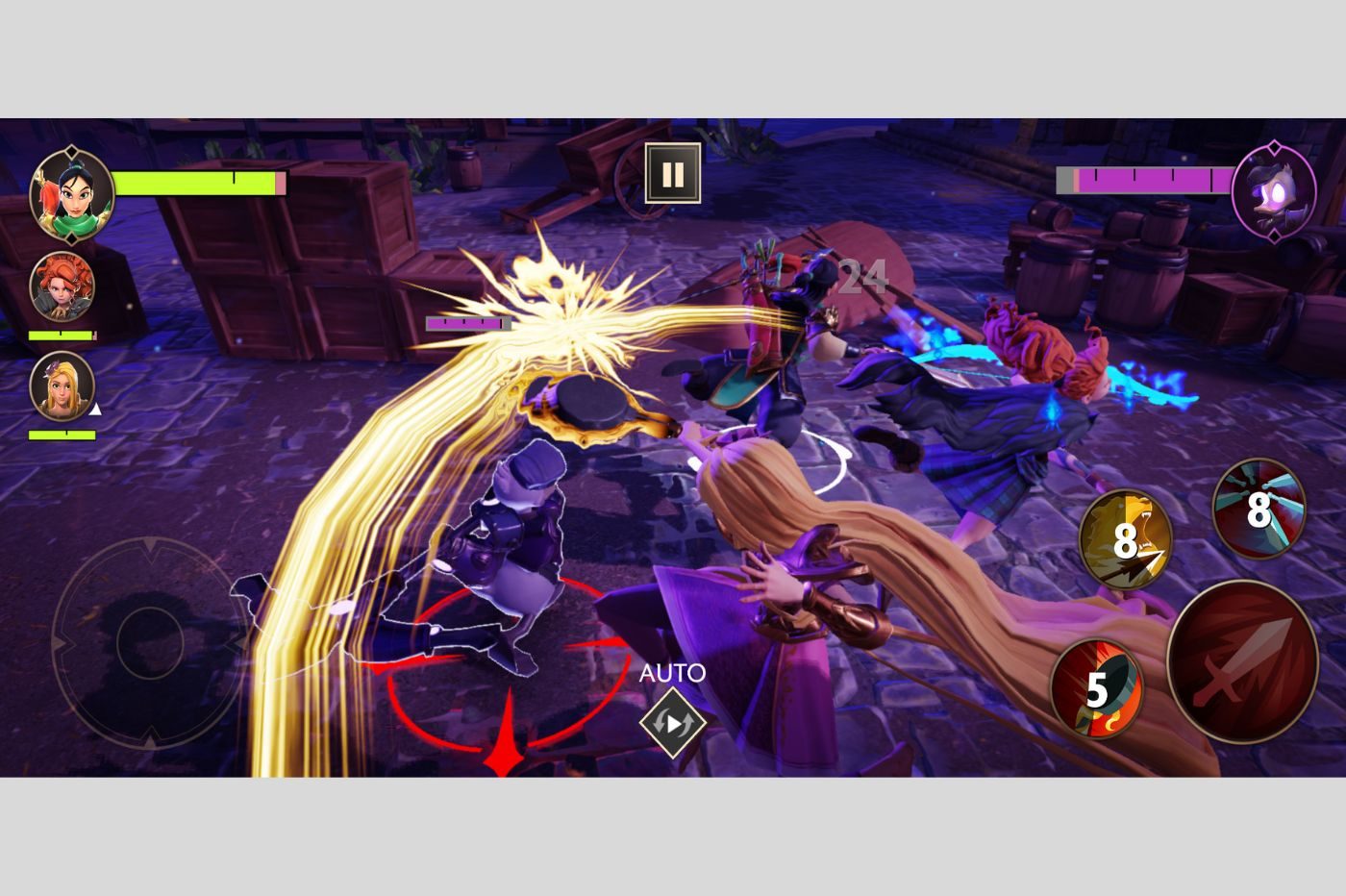 To overcome his enemies, you have to learn to juggle between attacks, but also know how to dodge when necessary. After playing just a few levels, you should be fine since they all look the same in format. Each stage is made up of 3 to 4 waves of enemies, the last being reserved for the final boss who is none other than a character coming from the other side of the mirror.
A diversity rather absent from the gameplay
In this, we regret the very linear side of the game, which gets in trouble over time, but which does not honor its enemies or its game environments, which nevertheless change at the end of each chapter. We thus lose the characteristic atmosphere of Disney in favor of the action.
Also at this level, don't expect a PvP mode, there isn't one. As you adventure, you'll unlock some special modes, but after several hours of gameplay we haven't seen any online multiplayer yet, which would have been a real added bonus. And since the game is free, you will therefore be entitled to micro-transactions, which are sometimes suggested over the course of the game, but which are also not invasive or necessary to collect guardians or improve them. For this, many missions and related activities are available daily.
However, we really regret the use of energy to be able to launch a match, an archaic method which does not leave the player complete freedom as to his progress for free. Nevertheless, Disney Mirrorverse is an excellent little fighting game that we will recommend to all Disney fans without hesitation.