Nintendo Switch Sports test, does it win the gold medal?
The competition is on: can Nintendo Switch Sports do better than its predecessor Wii Sports? Answer in this test.
You remember Wii Sports ? Most gamers today must have already played it during their childhood or adolescence, and it is still one of the most iconic games that Nintendo has released on the Wii. The motivations of the firm to repeat the experience with a brand new opus on Nintendo Switch are therefore obvious.
Nintendo Switch Sports, it's both a guaranteed return to childhood, and Nintendo's way of bringing young and old together around a family, sporty and accessible game. The firm's bet is to manage to combine nostalgia and modernity to create a title that will mark the video game period as did its predecessor. Has Nintendo gone to the end of its ambitions, or is it on the sidelines for this time? Answer in this test Nintendo Switch Sports.
Pre-order Nintendo Switch Sports (strap included)
3, 2, 1, go!
You will have understood it in our handling of the game that Nintendo Switch Sports had already partially won us over, although we only had a brief glimpse of what it is capable of. As a reminder, it invites you to roll up your sleeves and take part in 6 sports disciplines, some of which are already known to the public. On the menu, we find the iconic tennis and bowling, the chambara, football, volleyball and finally badminton.
So you have something for everyone with both team and individual sports, outdoor or indoor. Some of them have managed to make their way since Wii Sports or its version Resorts released some time later. It is with happiness and enthusiasm that we have rediscovered tennis and bowling, which are in every way similar in terms of mechanics. However, be careful with bowling, which requires a lot of help to master the effects of the ball, which are sometimes too arbitrary.
As for the new ones, they are just as pleasant to handle as the old ones. Badminton and volleyball are the perfect examples of Nintendo's mastery of sensations, since they are two fairly technical sports that require a little time to adapt. Victory is not given to you on a plate, it is often precision that reigns supreme. This is also the case for the chambara, which does not really leave its place to chance.
Only football is entitled to preferential treatment, and fortunately, otherwise it would be hard to follow. The Nintendo Switch Sports version does not strictly apply the rules of real football, but the difficulty is found in the game mechanics, evidenced by the Joy-Con that you must use in pairs only for this sport.
The program is therefore varied and the activities offered by Nintendo are all disciplines of choice. Some of them, like bowling or even chambara, have special modes that allow you to rediscover sports from a different, even more entertaining angle. You can also completely customize your games thanks to the integrated settings, and options such as "play together" for bowling, for example. This is a particularly necessary addition if Nintendo wishes to satisfy its players over the long term.
However, we would not have said no to a handful of additional sports, even if it meant taking more inspiration from what was offered in Wii Sports. If we know that the studio will delight us with a new sport in the fall – namely golf – we hope that it will not be the last planned addition. Nevertheless, nintendo-switch Sports has a more than correct replayability, which is also enriched with an online mode, which we will discuss later.
Don't be afraid to get the jersey wet
When it comes to sports games, Nintendo is on familiar ground. Except Wii Sportswe were also entitled to some notable titles, including WiiFit or Ring Fit Adventure. In comparison, Nintendo Switch Sports is clearly not as intense, but after an hour of play, you will certainly come out of it with some soreness in your arm.
However, you never come out of a session of Switch Sports with the impression of having imposed a training. The diversity of the disciplines offered and the fun they provide means that every minute spent on the game can be summed up as pure entertainment. In addition, Nintendo innovates with this opus by integrating the first sport playable with the legs. It's not (yet) about football strictly speaking, but about penalty shootouts, which require a headband to hang the Joy-Con on.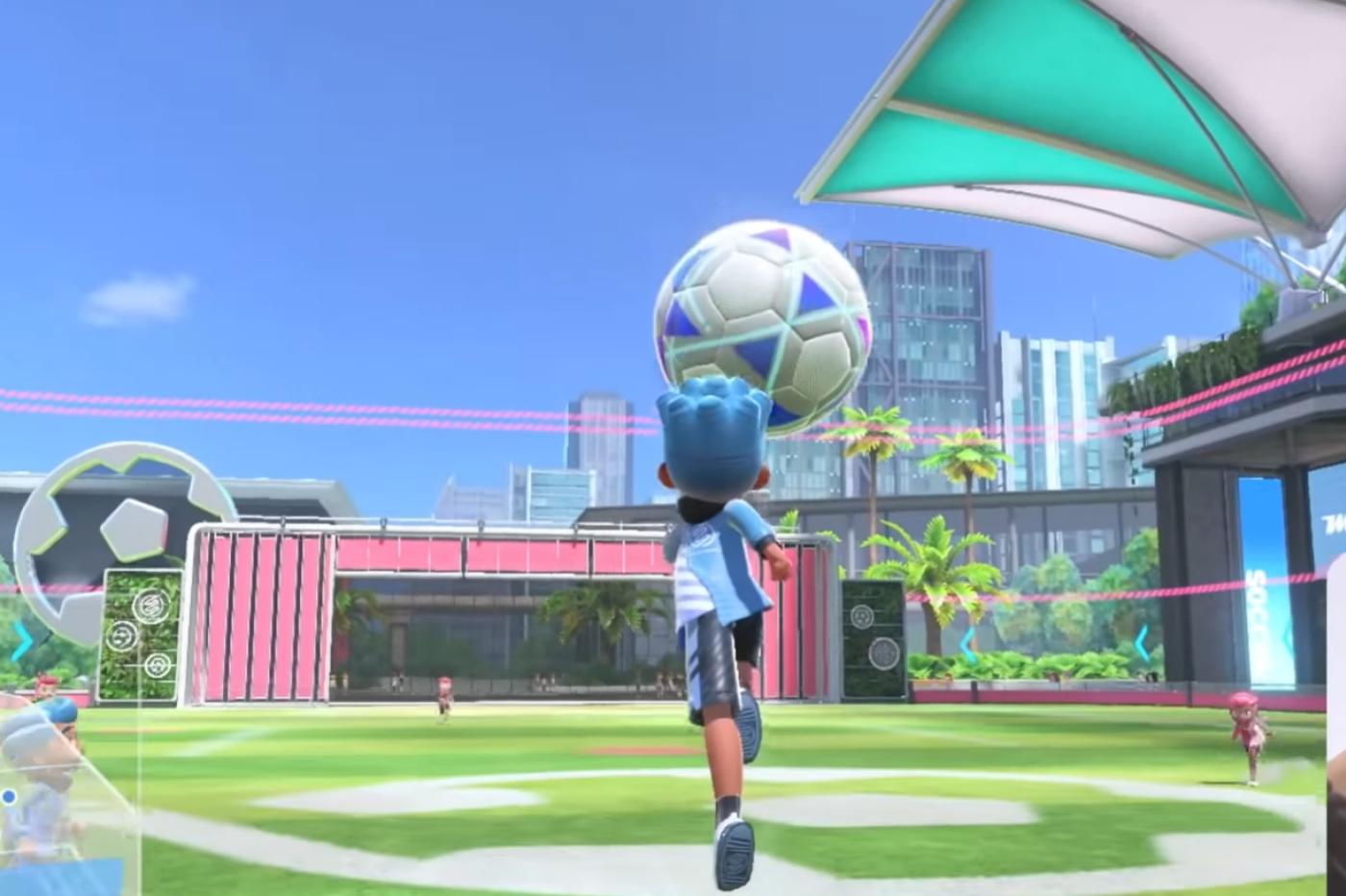 This is the great strength of the studio: to succeed in making something new with something old, by offering ever more innovative but accessible gameplay. If we had to take each sport one by one, we would surely find things that we like more or less. But if tastes and colors are not discussed, we can objectively say that all disciplines are both realistic and affordable in terms of difficulty. No jealousy, they all take first place on the podium.
Nintendo Switch Sports, so it's a game that we believe bridges the generations, bringing together both novices and experienced players, franchise connoisseurs and newcomers alike. Nintendo has understood its strength, and is once again using it wisely.
We don't change a winning team, we modernize it
In addition to the entertaining aspect, and the competitive aspect, we find in Nintendo Switch Sports a beautiful and colorful universe, still witnessing the graphics performance of the console. We have nothing to complain about the general look of the game or even its visual experience (perspectives, camera angles, etc.). We still appreciate the effort of immersion with the virtual sports complex that is Spocco Square. This changes from the soulless menus of its predecessor.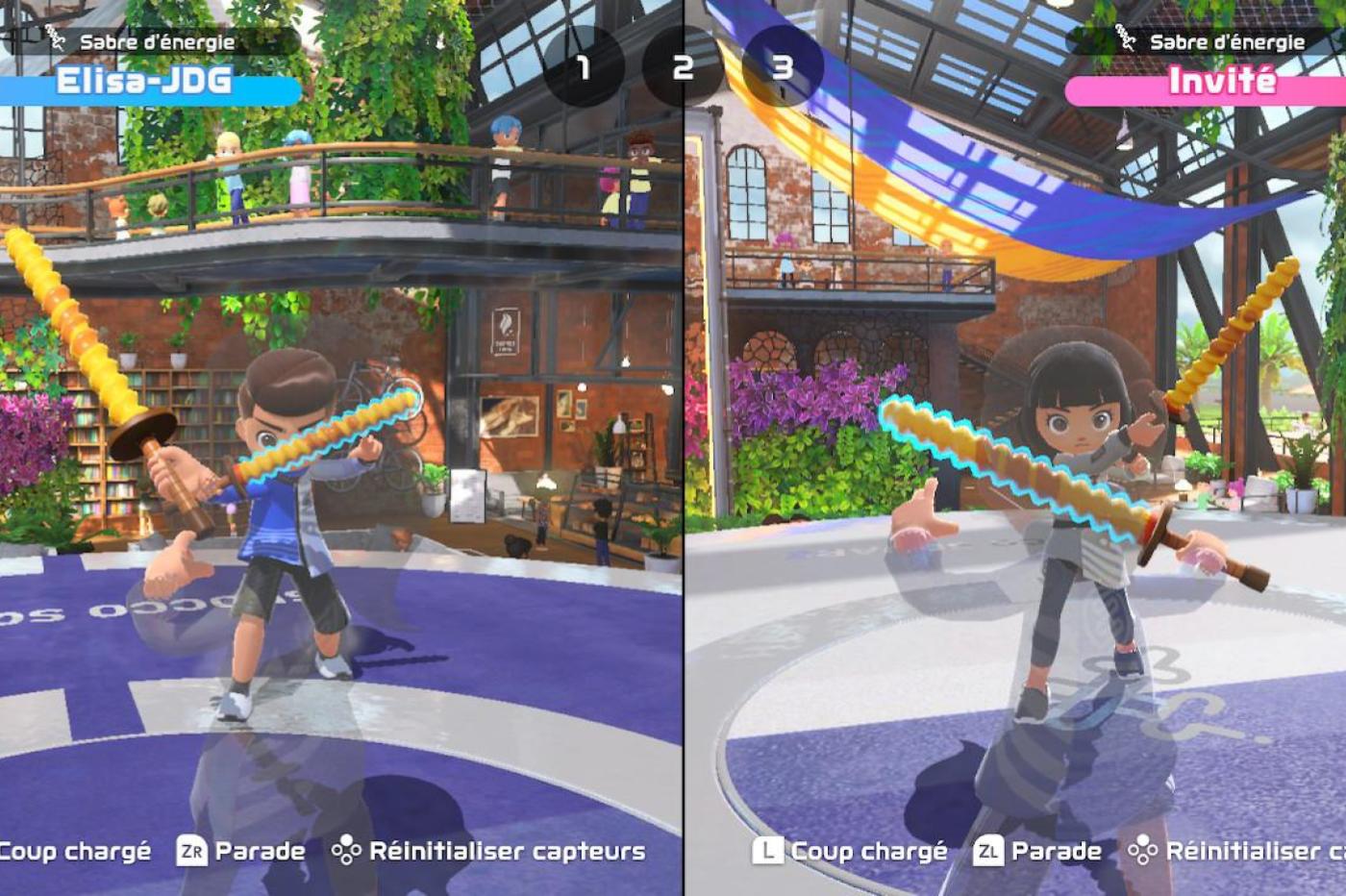 Another great novelty, the Miis, famous characters that appeared with the Wii, have given way to new faces, more stylized and in keeping with the times. When creating your profile, and at any time during your session, you can customize your character, as well as their clothes. From what we've seen, customization options are very limited by default, and you'll need to earn points if you want to redeem them for additional outfits and accessories. Purists will also appreciate the fact that Miis are still a viable option.
Obviously, Nintendo Switch Sports is also the perfect opportunity for you to play with your loved ones, most games accepting local multiplayer mode for up to 4 people. It should therefore quickly impose itself at the back of the pack for parties or family gatherings, alongside Mario Kart 8 Deluxe and companies.
Finally, we'll talk to you about the online mode, an addition that should cause a stir among the most competitive among you. Unfortunately, at the time of this writing, this mode is not yet available, so we will update this test of Nintendo Switch Sports with the missing information in the days to come.