Razer Kishi v2 review, an ideal copy on Android
Razer has just updated its controller for smartphones and a drastic change. Here is our opinion on the Razer Kishi V2 controller.
At the beginning of June, Razer had finally announced its new controller for smartphones. here is Razer Kishi v2 and it is already available for Android smartphones. The version for the iPhone will arrive this fall according to the American manufacturer.
We've known for some time now that mobile gaming is an important market and it hasn't stopped growing ever since. This is all the more obvious with the arrival of more and more indie games on iOS or Android smartphones. We think in particular of hits like Street of Rage 4, Gunfire Reborn or more recently Diablo Immortals. And we've also seen it for some time, playing on a touch screen isn't as complicated these days. Some even feel more comfortable there. For our part, everything will depend on the games.
Like the Nintendo Switch
In any case, for many however, nothing will equal the comfort of a physical controller. All (or almost) Android smartphones are compatible wirelessly with Xbox or Playstation controllers, but this is not always the best solution, especially when on the move. As a result, we can easily understand that the best format remains that of the Nintendo Switch. It is in this direction that Razer has been moving since the start with a controller that is placed around the smartphone via a direct connection to the USB-C port of the smartphone. The upside is instant connection and low latency, perfect for the most competitive games.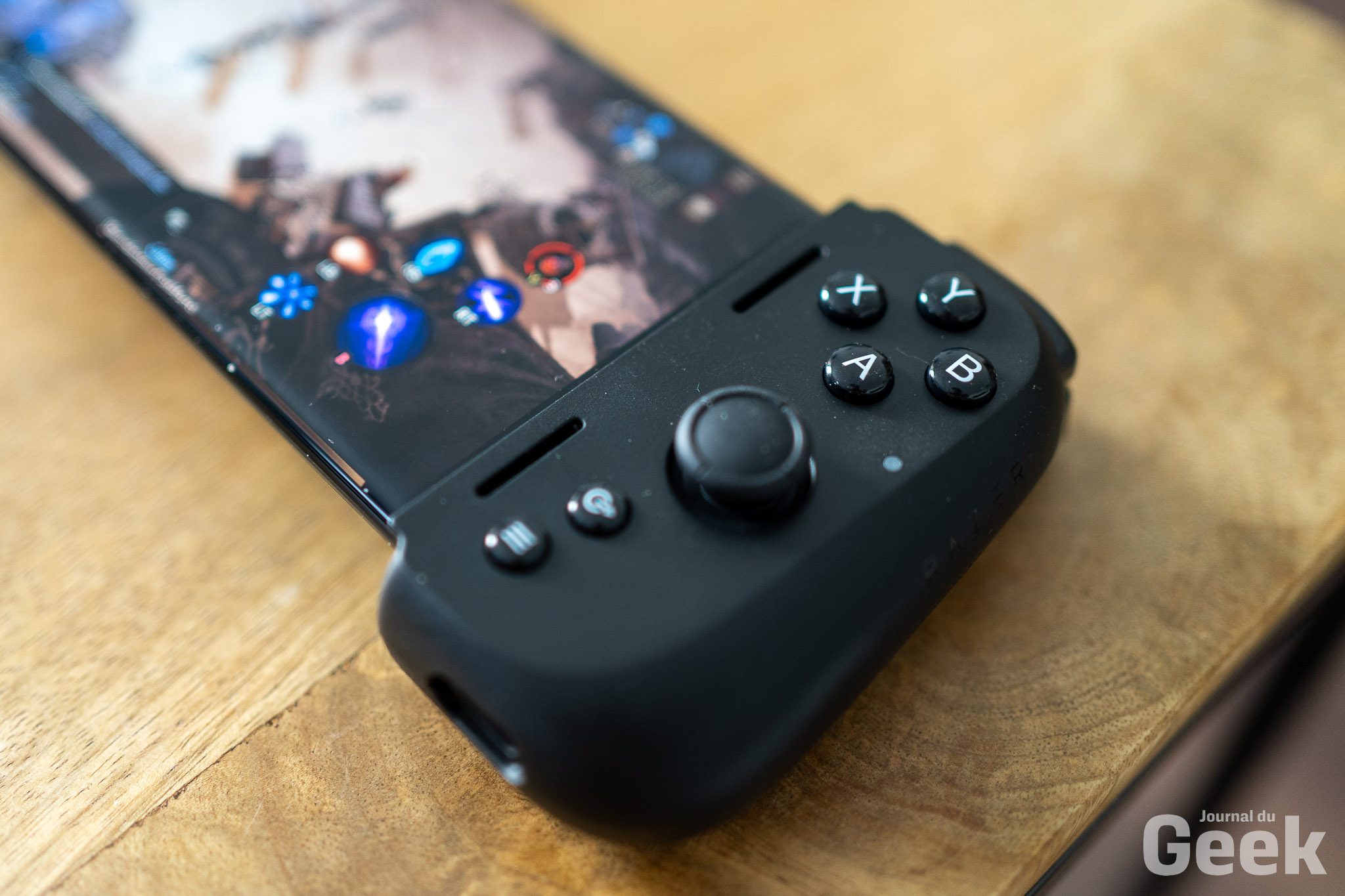 In hand
As can be seen from the first grips, the design has been refined, which allows for a better grip. But that's not all since Razer has abandoned its somewhat wobbly system for what is called "a bridge", which adds greater stability when the smartphone is fixed. It was a defect that we had noticed on the original Kishi where certain parts tended to move while the smartphone was perfectly placed. So, exit the parts that moved a little too much for a stiffer controller back.
On the other hand, even if the controller is thinner, it takes up more space in a bag. Afterwards, in the end, the difference is not so obvious in hand. But what shocked us the most was this very, very big resemblance to what the Backbone brand has been offering since last year, also specializing in the world of controllers for smartphones. We don't know the links between BackBone and Razer but it's a bit of a cold shower, we were expecting a new product and we end up with a quasi-copy stamped Razer.
Copy story but good copy
Afterwards, to be honest, compared to the Kishi Original, it's a bit night and day. The Kishi v2 adapts better to any smartphone width (we tested on a Samsung Galaxy S22 Ultra and a Vivo X80 Pro) and there are new buttons with microswitch buttons, much more pleasant and responsive. That's not all since we now have a mechanical D-Pad, analog triggers and even two additional buttons that are fully programmable via the Razer Nexus application. Compared to the Nacon MG-X for example, there is this comfort in hand that feels right away.
This is perhaps where the problem lies, despite all the positive points, this feeling of copying returns, whether it is the controller itself or the Razer Nexus application which takes over the same functions as the BackBone application in few things but with a less polished interface. Afterwards, we put things into perspective because if you didn't even know the BackBone brand, it wouldn't have any impact. It is because we have elements of comparison that we have our feelings vis-à-vis the Razer Kishi v2.
Gallery