the first 240 Hz OLED monitors are here
LG confirms the launch of its UltraGear 27GR95QE and 45GR95QE gaming monitors. They are equipped with 27-inch and 45-inch 240 Hz OLED panels respectively.
They were long overdue, here they are at last! LG confirms the arrival of its new UltraGear range, consisting of the 27GR95QE and 45GR95QE models. Behind these names are high-end gaming monitors equipped with a 240 Hz OLED panel, a first in this segment.
Exclusively manufactured by LG, this 240 Hz OLED panel confirms the brand's ambitions in the world of gaming. The UltraGear 27GR95QE features a 27-inch QHD (2560 x 1440 pixels) panel while the 45GR95QE uses a 45-inch OLED panel. The latter displays a WQHD definition of 3440 x 1440 pixels. In both cases, these screens support a native refresh rate of 240 Hz. These new models also guarantee a response time of less than 0.03 milliseconds GTG (gray-to-gray). In use, it's an instantaneous response time for players and it limits the blurring effect. These screens are ahead of the best monitors with an LCD panel (VA, IPS or TN) which generally claim a response time of 1 ms.
LG's 27-inch OLED gaming monitor also covers 98.5% of the DCI-P3 color space. It supports variable refresh rate (VRR) and is compatible with NVIDIA G-SYNC, FreeSync Premium and VESA Adaptive Sync. Added to this is support for HDMI 2.1 and DisplayPort 1.4 connectors. Note also the presence of a 4-pole headphone socket to associate a DTS Headphone: X headset.
LG UltraGear 45GR95QE: first 45-inch 240 Hz Oled monitor
Even more impressive, the 45GR95QE model is presented as the first 45-inch curved LG OLED monitor with WQHD (3440 x 1440) definition and 21/9 format. This large screen has an 800R curvature and is certified for its low blue light emission. The South Korean manufacturer announces a contrast level of 1,500,000:1 and coverage of 98.5% of the DCI-P3 color space. Inevitably, and as for its little brother, this OLED technology allows an "infinite" contrast since each pixel is managed individually.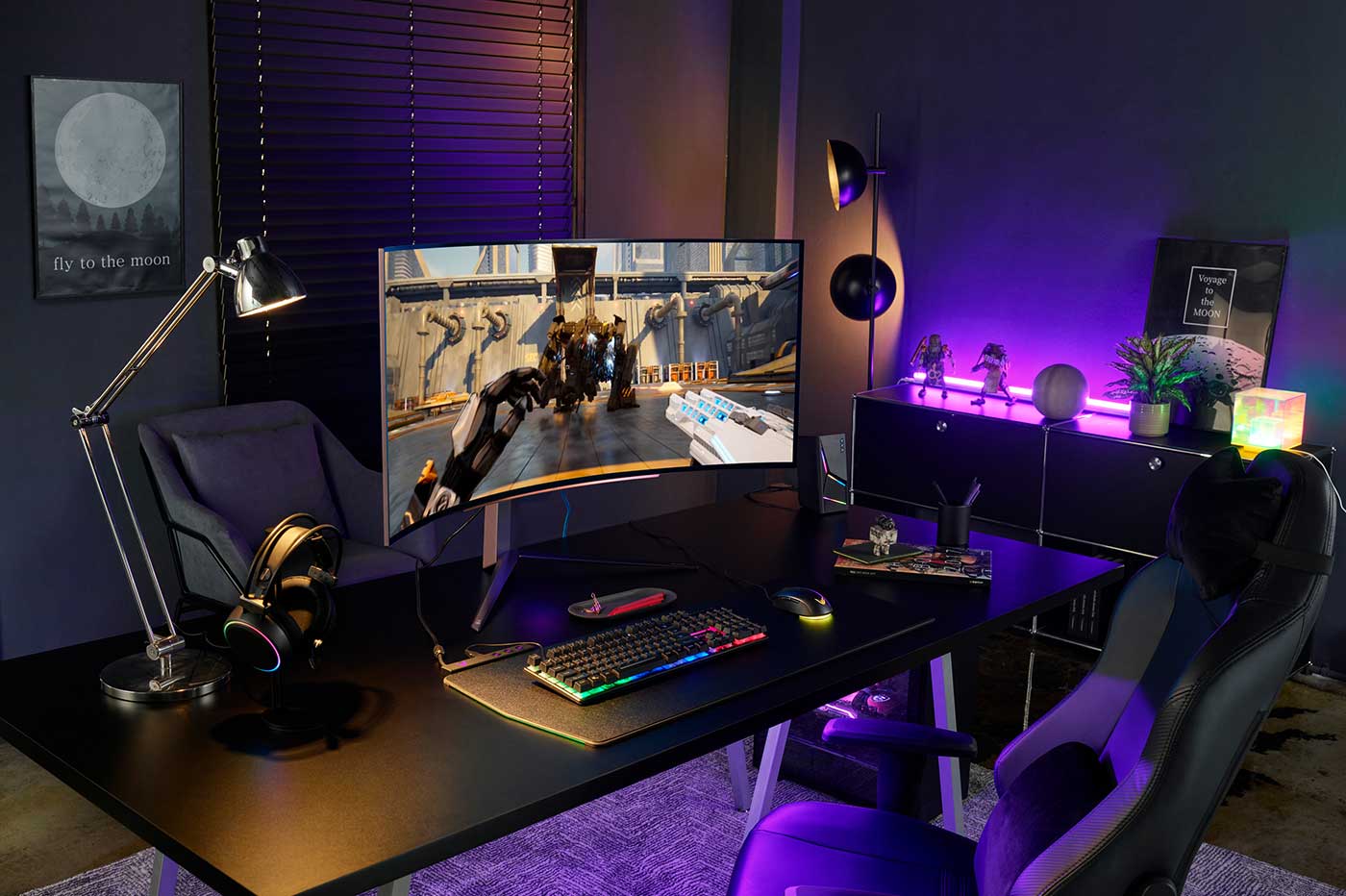 Presentation at CES 2023 and soon available in Europe
Visitors to CES 2023 will be able to experience these new LG monitors. As a reminder, the event will be held early next year in Las Vegas, from January 5 to 8.
LG's gaming monitors are also available for pre-order in the US starting December 12. A visit to the US site allows you to discover the prices of the UltraGear 27GR95QE and 45GR95QE. The first is displayed at 999.99 dollars while the second is announced at 1,699.99 dollars.
The French branch of LG confirms that the two models will arrive in the main markets of North America and Asia in January, in Europe as early as February 2023, then in the Middle East and Latin America in the following months. The rates are not yet known, but they will inevitably be high on the Old Continent.
LG UltraGear OLED (27GR95QE)
LG UltraGear Curved OLED (45GR95QE)
Screen Type:
OLED (AGLR)
OLED (AGLR)
Screen size :
27 inches
45 inches
Definition :
QHD (2560×1440)
WQHD (3440×1440)
Range of colors :
INN-P3 98.5%
INN-P3 98.5%
Contrast level:
1500000:1
1500000:1
Refresh rate:
240Hz
240Hz
Response time :
0.03ms GTG
0.03ms GTG
Curvature:
800R
HDR:
HDR10
HDR10
Connectivity:
– HDMI 2.1 x 2
– DisplayPort 1.4 x 1
– USB 3.0 x 3
– 4-pole headphone output (DTS HP:X)
– HDMI 2.1 x 2
– DisplayPort 1.4 x 1
– USB 3.0 x 3
– 4-pole headphone output (DTS HP:X)
Loud speaker :
N/a
N/a
Remote :
Yes
Yes
Bracket:
– Tilt: -5º to +15º
– Height: 110mm
– Rotation: ±10º
– Swivel: 90° (counterclockwise)
– Tilt: -5º to +15°
– Height: 110mm
– Rotation: ±10º
– Swivel: not available