the indie game that makes you smile
Back to the simple joys of childhood with a title that feels like a ray of warm sunshine to counter the sadness of winter. Test.
In addition to being a great way to have fun, video games can also be a source of strong emotions. Some scare us, some make us cry, and some warm our hearts. While winter is in full swing, there's nothing like a comforting title for gaming sessions away from the rain and cold.
That's good, because a real nugget of the genre has arrived on Steam and Nintendo Switch last December 14. It is Lil Gator Gamehear "a little alligator game". The title is aptly named since you play as a young reptile in search of adventure.
But not just any adventure! Under his air of Zelda-like, this title with graphics just as adorable as its concept takes us back to that time of childhood when everything is an excuse for play. Our mission: to convince a big sister caught up in her university work to rediscover her child's soul. This ode to innocence is a journey worth taking.
Full of emotions
Childish in appearance at first glance, Lil Gator Game hides his game so well that it would be a shame to deprive yourself of it. With a simple graphic touch and all in pastel, we discover an atmosphere similar to that of A Short Hike, whose title is clearly inspired. But above all, we find in a way the atmosphere of the cartoons of our childhood, often carried by anthropomorphic animals with an adorable design.
The purpose of the game, as simple as these entertainments of our youth, nevertheless touches our sensitive chord. The little alligator that we play is sad not to be able to continue having fun with his sister, who is now "too big" for life-size role-playing games. Never mind, the little adventurer intends to set up the most impressive RPG to attract the attention of his sister.
Whether or not we have brothers and sisters, the game manages to play with nostalgia to make us empathize with our little character. After all, who hasn't been denied a play session as a child? An emotional bond is established from the first minutes of the game, reviving the kid who lies dormant in all of us.
The Legend of Zeldalligator
If there is one thing that the title does not hide, it is its link with Nintendo's cult license. More than offering a simple clone of Zelda Wind Waker Where Breath of the Wild, Lil Gator Game above all uses the legacy of the license as a nostalgic springboard. Since the game revolves around this element, the gameplay intertwined with the story comes to resonate with longtime gamers.
Flashbacks cleverly embedded into our in-game journey reveal familiar scenes. Who has never gone through a specialized magazine for hours to learn more about a long-awaited title? While we are in full expectation of The Legend of Zelda: Tears of the Kingdom, we would almost want to do as in Lil Gator Game and play an imaginary role-playing game.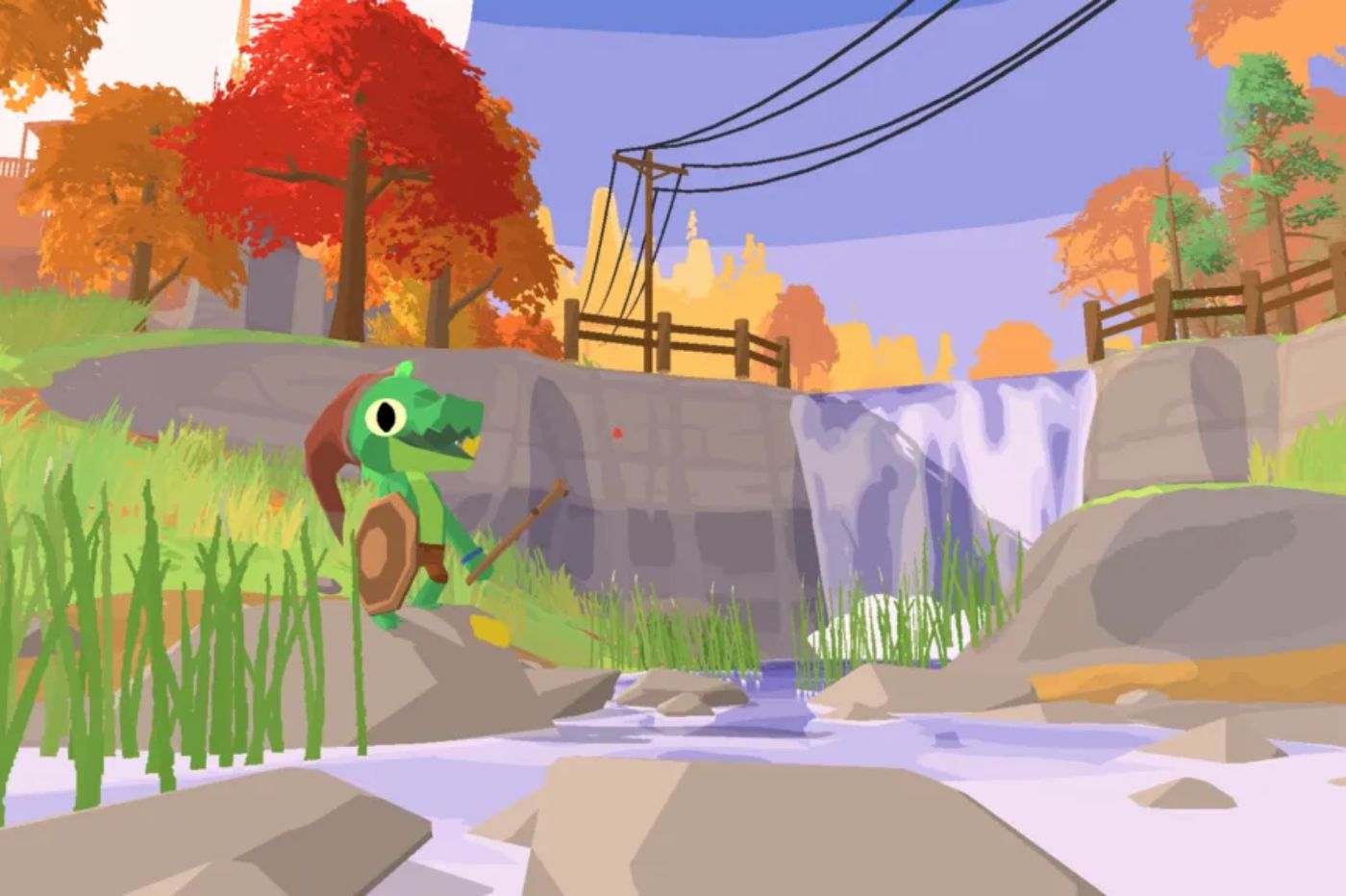 This kind of special moment that forms the childhood of a player of the 90s and 2000s sprinkles the adorable course that is proposed to us. Result of the races, we find these years of youth through our little adventurer. In addition to playing with our memories, the title uses our muscle memory. Exploration and "combat" (in quotes since the enemies are cardboard signs) are done in the image of the best Zelda : we are far from being out of place.
Good in substance and in form
But one Zelda-like without combat and without enigma, what does it give then? Even though the inspiration is strong, the experience is one of a kind. The slides and the climb remind Breath of the Wildand the island smells of sea air Wind Waker. However, the adventure that one undertakes has more than one facet.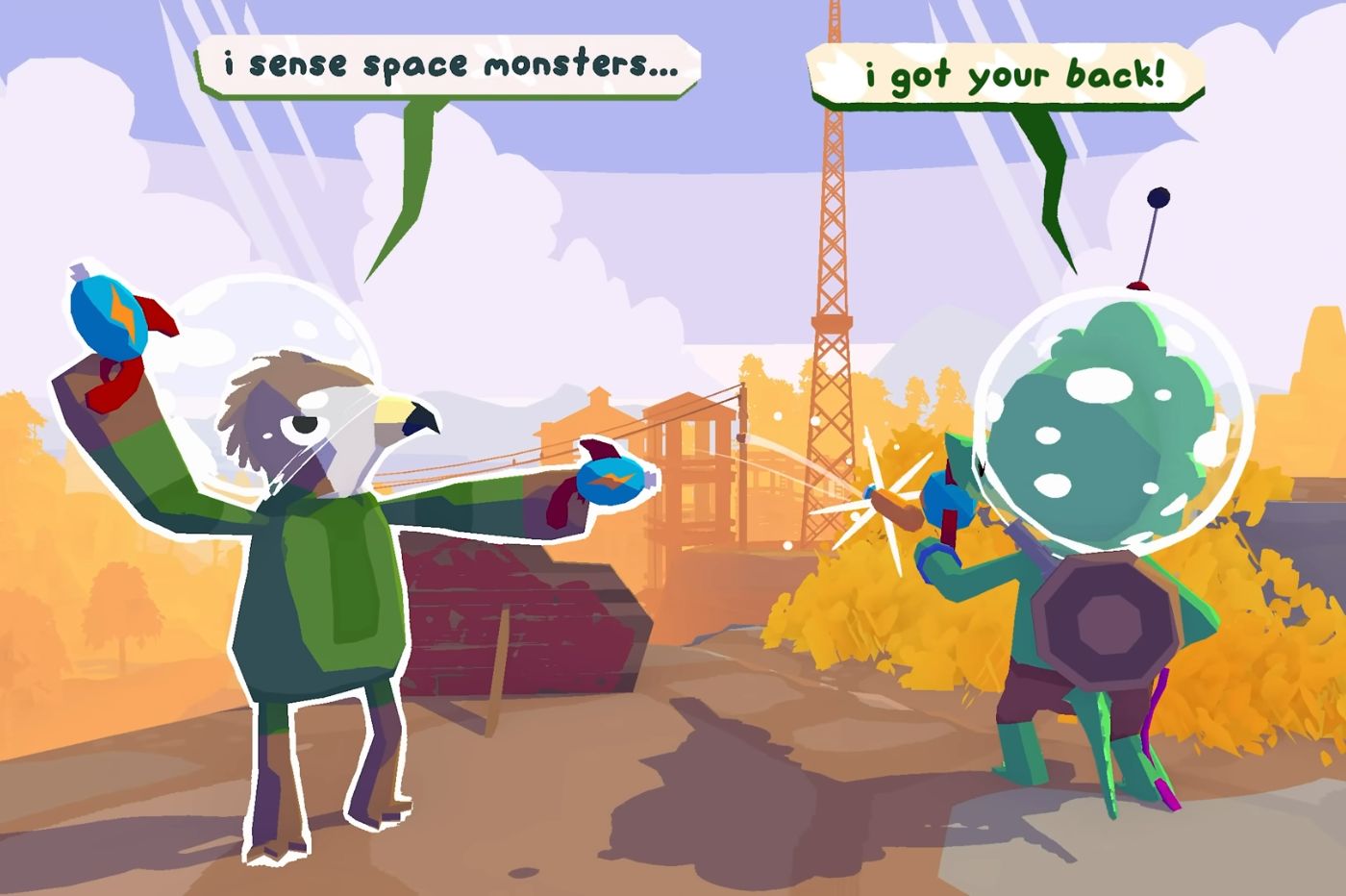 To succeed in organizing his life-size role-playing game, our little protagonist goes in search of all the inhabitants who wish to take part. Everyone then goes there for their little sub-quest to carry out to convince them. Through these tests and other mini-games, many references to great video game classics will make the most geeks laugh and smile. In addition to being fun, this title is smart.
Everything is cleverly thought out to offer a soft and warm experience, but also thrilling to put our player reflexes to good use. Slips against the clock, waves of "monsters" to beat down or even trial at Ace Attorney, the surprises never end. Succeeding in "collecting" friends also resonates with the gameplay of certain platform games called "collectathons" such as Banjo and Kazooie or even Mario 64.