Upgrading to Windows 11 Might Improve Your Gaming Experience
A new feature that will delight PC gamers will soon be arriving on Windows 11, making it easier to play with a controller.
Playing a controller on a computer is often less intuitive than using a controller on a console. Navigating between the desktop and the different applications still requires the use of the keyboard and mouse, making the controller useless outside of the game.
All these difficulties related to the use of this accessory will soon be history thanks to the new functionality that Microsoft plans to integrate into Windows 11. Bearing the sweet name of "Controller Bar" (So Controller Bar), this new addition will join the old Xbox Game Bar and will complete the capabilities of this obsolete version.
Until now, Windows gamers using the Xbox Game Bar could then take screenshots, record their games, access sound settings or even access their machine's statistics (including in particular the use of the processor, the graphics card or the number of images per second of the game in use).
The new bar will be a simplified version allowing quick access to certain features similar to what we can see on consoles. With a simple press of the Xbox button, it will then be possible to access the last three games played, as well as your favorite platforms (Steam, Origin, Xbox, etc.).
The objective is to allow you to launch your games in one click with your controller without having to navigate on your PC. Once in game, pressing the Xbox button will automatically open the classic Xbox Game Bar that players know, which then offers features that we know, such as the ability to manage your Spotify music.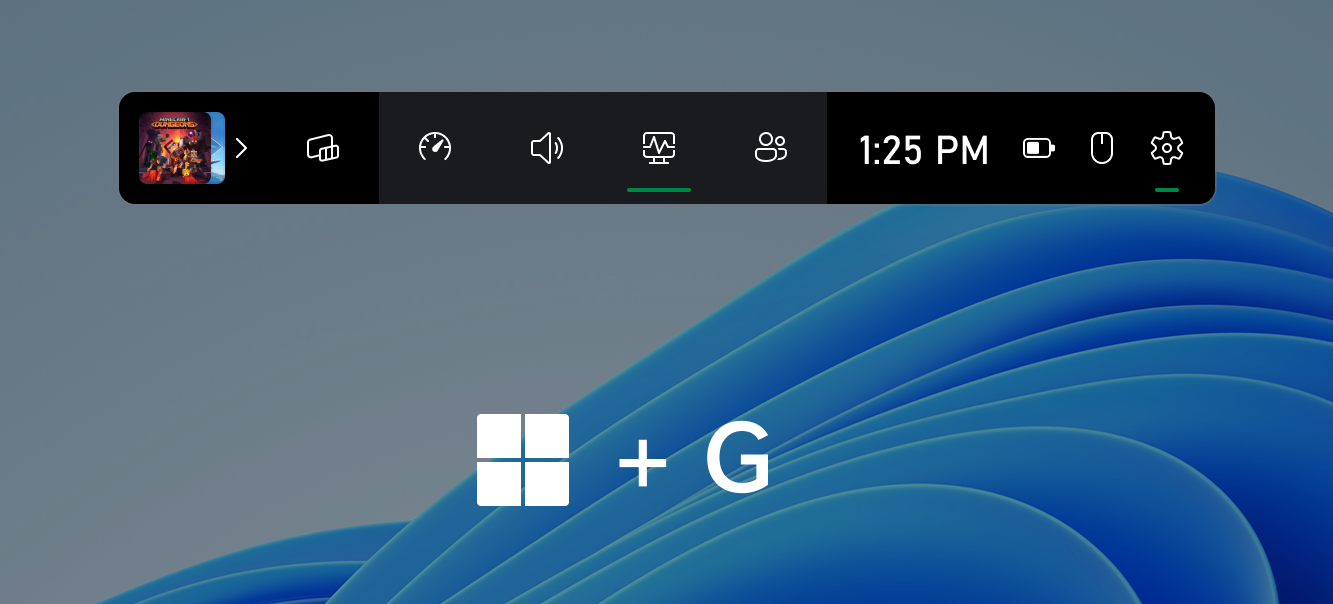 How to install the new Controller Bar?
To access this new interface in preview, you will need to follow a few steps. First, you must be a member of the Windows Insider program and install the latest version of the Preview Build of Windows 11. Then, the procedure to follow will be done directly from the Xbox Insider Hub that you can download on the Insider version of your Windows-OS. You will then need to activate the previews from this application, then download the latest version of the Xbox Game Bar from the Microsoft Store in order to be able to start testing the new Controller Bar. Details of the procedure are also available at the dedicated blog post from Microsoft.
However, this new feature is still in full development, and it is not guaranteed that it will be fully functional at this time, or even that the final version will be similar to this one. If you're not the type to tweak your computer to test its features in beta mode, we recommend that you wait for the official release of this new bar for your controllers.