what sports could be added later? Theories
After a detailed study of Spocco Square, here are the sports that could be added to Nintendo Switch Sports in the future.
Last April 29 came out Nintendo Switch Sports, which you have tested and loved. This return to childhood has also prompted us to ask ourselves which sports we would like to see return in future updates. And once the Joy-Cons were in hand, other possibilities hit us. What if Nintendo had already planned to add certain disciplines and clues were hiding before our eyes? What sports could really be added to Nintendo Switch Sports. On our side we have some ideas, of which here are the explanations.
The detailed study of Spocco Square
It was by starting the game during an evening with friends that we realized the usefulness of Spocco Square. Acting as a reception hub, the Spocco Square is a great novelty of Nintendo Switch Sports compared to its predecessor. And if it is pretty, it is no less useful. Indeed, the sports complex makes it possible to bring together all the sports in a harmonious and coherent way, and thus to establish an even stronger feeling of immersion.
But, with a little observation, we can also realize that Spocco Square is a mine of clues about potential Nintendo projects. Some areas, still unoccupied, caught our attention. So here are 3 disciplines that could be added in the future in Nintendo Switch Sports.
Water sports
This is one of the most obvious we've found. To the right of Spocco Square is an area that greatly reminds us of a nautical base. There is a building there, as well as several pontoons and even boats. Further to the right is a large body of water that would be perfect for any water sport. While knowing that Wii Sports Resort contained several disciplines of this kind, some of them could well make their comeback in this new opus.
We think in particular of canoeing or even water skiing if the studio thinks it can conquer new sports. But there are still many other possible disciplines, it will therefore be necessary to wait a little before being fixed on the usefulness of this very particular zone.
Basketball
We then give you an appointment just below, in the bottom right corner of the Spocco Square map. Here, you find another unused building (for the moment) which has a singular shape. On the roof, we can indeed see the shape of a basketball, which confirms our idea that it is one of the sports that can possibly be added.
Let us also remember that it is a discipline which had perfectly found its place in Wii Sports Resort and which is therefore also part of Nintendo's DNA.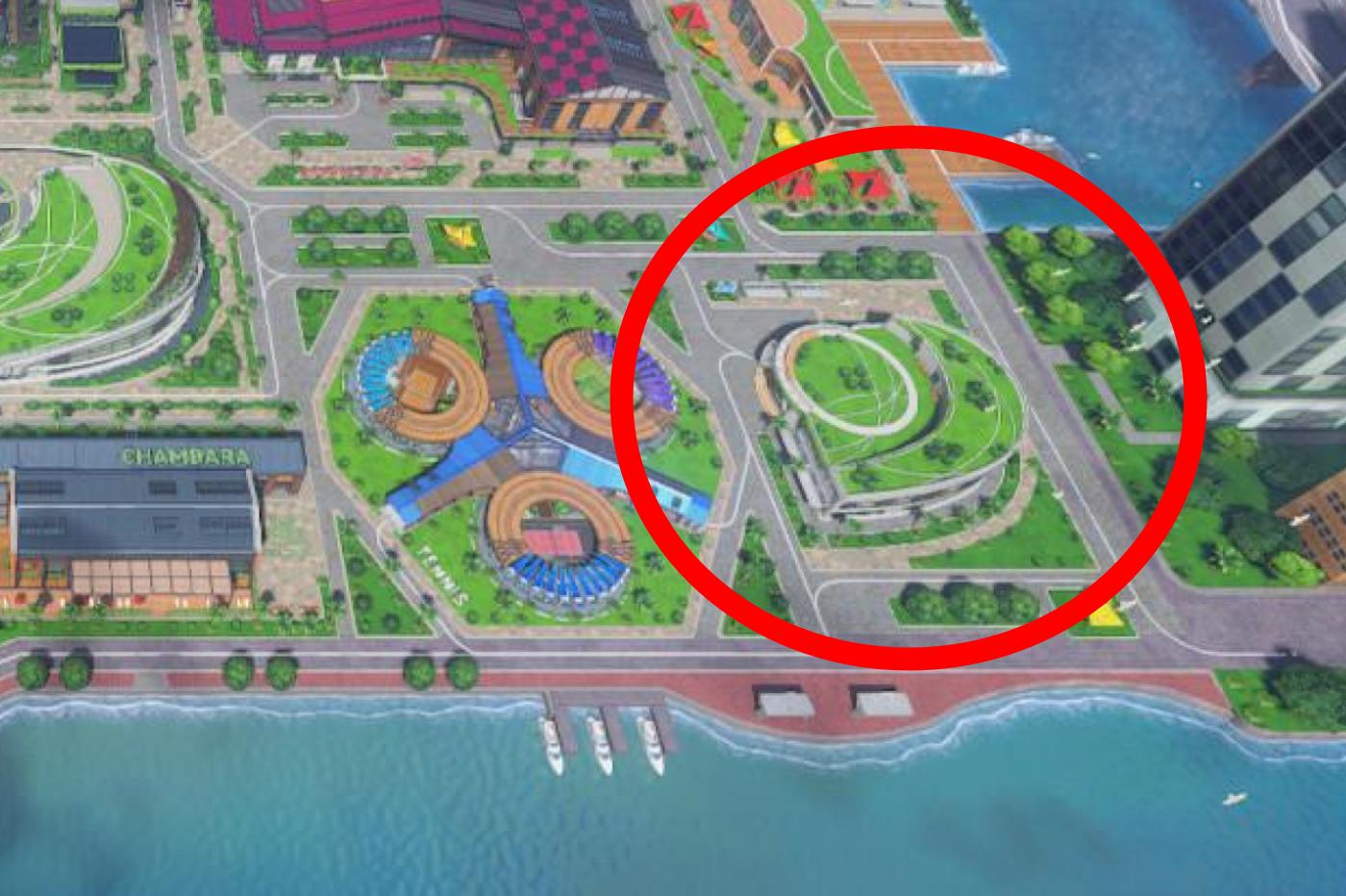 The bike
We end this series of theories with cycling, which we have already included in the sports we would like to see return. And our dream seems to be within reach. You see them too all these roads in Spocco Square. For the moment, they are useless, but that could change. Some dataminers have managed to get their hands on files indicating that free roaming (free movement in a closed area) could be added in the future.
This, put end to end with a few significant scenery elements, was enough to make us believe that cycling could indeed join the game. Indeed, during your chambara games, you will be more attentive to the background which contains many bicycles hanging on the wall. Simple decoration or hidden clue? We don't know yet, but we'll soon find out.
Hope there's a free roaming aspect to Nintendo Switch Sports. I like those little mall outlets in the backgrounds pic.twitter.com/xOxPHFxZNv

— Matt (@MattCrossTweets) February 9, 2022
Nintendo has some well-kept secrets
If for the moment nothing is certain concerning all our theories, Nintendo still keeps a lot of mystery around its freshly released game. It is known that in the fall, golf will be added to Spocco Square, but it is not yet known at what location. For the moment, the big building in the middle of the map is not used, but it could be reserved for a completely different use.
We will therefore see by then if Nintendo decides to reveal some secrets to us, or if we will have to wait these few months to find out more.